The Edelman Trust Barometer 2022 finds almost two-thirds of people are inclined to distrust organizations, which could impact attempts to tackle COVID-19 and climate change.
Scientists are the most trusted in society – and government leaders the least trusted.
The Barometer shows four forces at work, including a failure of leadership that could destabilize society, according to Richard Edelman.
But he says it's possible to break the cycle of distrust and rebuild public trust through factual information and demonstrable progress.
Two years into the COVID-19 pandemic, scientists are the most trusted members of society – by three-quarters of people – while government leaders are the least trusted.
"My employer" is now the most trusted of any institution at 77%, and workers expect CEOs to be the "face of change".
But distrust has become society's "default emotion", with 60% of people inclined to "distrust until they see evidence something is trustworthy" – which could hamper progress on tackling global challenges including climate change.
These are some of the findings of the Edelman Trust Barometer 2022. The report, which is now in its 22nd year, surveyed 36,000 respondents in 28 countries.
"Government was the most trusted institution as recently as May 2020, when the world sought leadership capable of tackling a global pandemic," says Edelman CEO Richard Edelman.
"Now, after the confused and bungled response, when it comes to basic competence, government is less trusted than businesses and NGOs. People still want government to take on the big challenges, but only four in 10 say government can execute and get results.
"In a critical litmus test, respondents in every democracy studied believe they will be worse off financially in five years."
4 forces driving the cycle of distrust as per Edelman Trust Barometer 2022
Edelman says this year's Barometer shows there are four forces at work that could destabilize society and stop progress on tackling COVID-19, climate change and racism if left unchecked.
1. Government-media distrust spiral.
"Two institutions people rely on for truth are doing a dangerous tango of short-term mutual advantage, with exaggeration and division to gain clicks and votes," says Edelman.
Government and media are seen as dividing forces, while business and NGOs are seen as unifying. And two-thirds of people are convinced they're being lied to by journalists, heads of government and business leaders.
2. Excessive reliance on business.
"Government failure has created an over-reliance on business to fill the void, a job that private enterprise was not designed to deliver," says Edelman.
Respondents want business to play a bigger role on climate change, economic inequality, workforce reskilling and racial injustice: "Every stakeholder group expects business to lean in, with nearly 60% of consumers buying brands based on values and nearly two-thirds of employees asking companies to take a public stand on issues."
3. Mass-class divide.
"The global pandemic has widened the fissure that surfaced in the wake of the Great Recession," says Edelman. "High-income earners have become more trusting of institutions, while lower-income earners have become increasingly wary."
What is the World Economic Forum doing to manage emerging risks from COVID-19?
The first global pandemic in more than 100 years, COVID-19 has spread throughout the world at an unprecedented speed. At the time of writing, 4.5 million cases have been confirmed and more than 300,000 people have died due to the virus.
As countries seek to recover, some of the more long-term economic, business, environmental, societal and technological challenges and opportunities are just beginning to become visible.
To help all stakeholders – communities, governments, businesses and individuals understand the emerging risks and follow-on effects generated by the impact of the coronavirus pandemic, the World Economic Forum, in collaboration with Marsh and McLennan and Zurich Insurance Group, has launched its COVID-19 Risks Outlook: A Preliminary Mapping and its Implications - a companion for decision-makers, building on the Forum's annual Global Risks Report.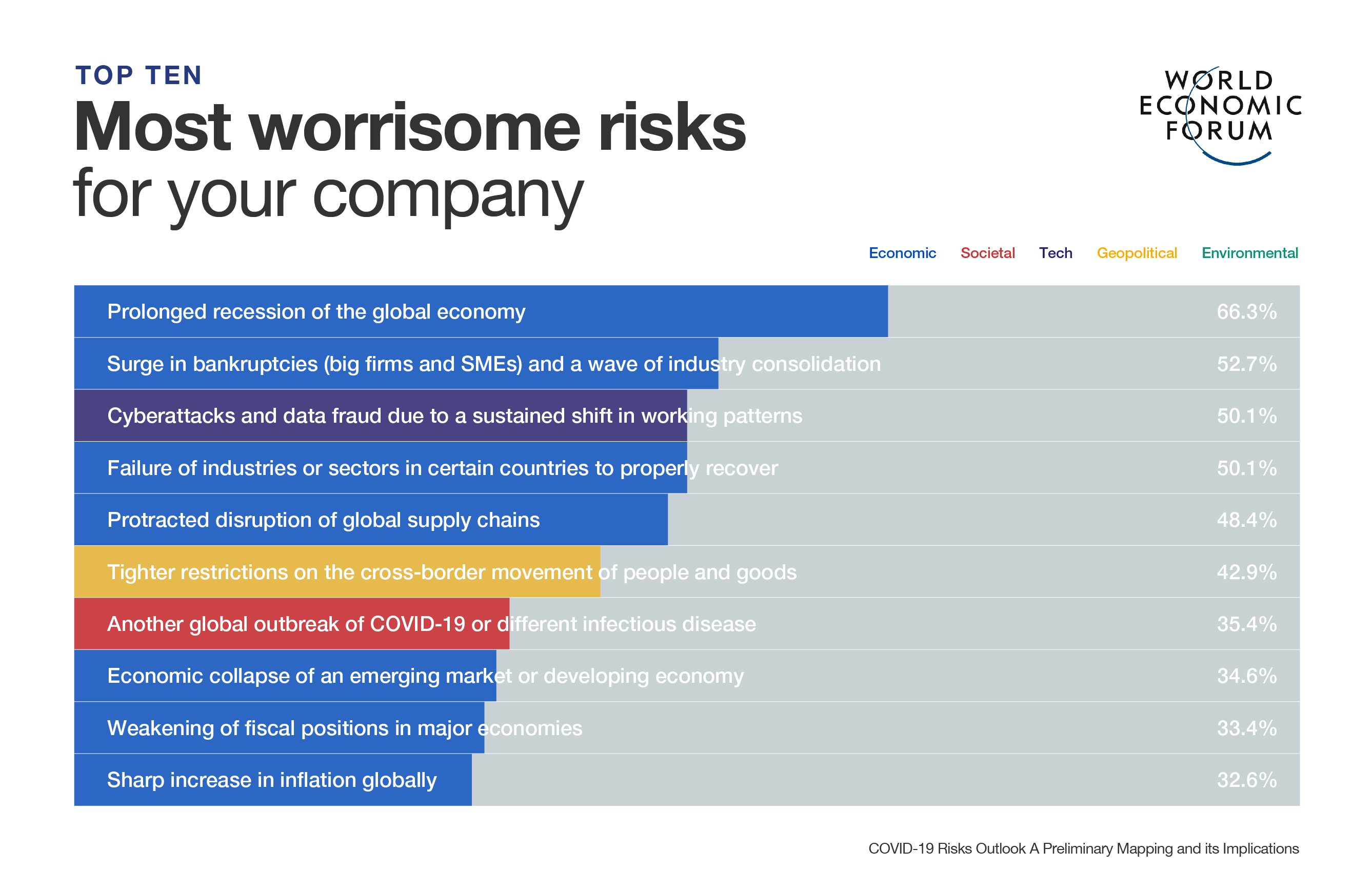 4. Failure of leadership.
"Classic societal leaders in government, the media and business have been discredited," says Edelman. "Trust, once hierarchical, has become local and dispersed as people rely on my employer, my colleagues, my family."
"Communications from My Employer" are now the most trusted source of information, with social media feeds the least trusted.
How to rebuild trust
Rebuilding trust will require institutions to provide factual information that breaks the cycle of distrust, while leaders must focus on bringing people together on common ground issues – and on long-term thinking and making clear progress on areas of concern.
"Facing these myriad challenges will require both a new way of operating and a much higher level of performance from our core institutions," says Edelman. "Government must finally gain control over the pandemic on a global basis.
"The media needs to get back to a business model that replaces outrage with sobriety, clickbait with calm authority. NGOs have an invaluable role to play on climate change and the last mile on the pandemic."